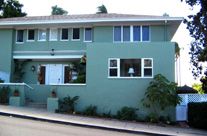 Residential facility for women.
Must not have children.
Contact for further details.
The Big Sister League was established in early 1942, by Frances Steele Woods.
The League currently owns two homes in the Hillcrest area., one on Redwood St (Est 1942) and the Mary McAfee home, also known as the Residency, (Est 1997).
The Board of Directors continues Ms. Woods' ideals providing support to under served women of San Diego in need of housing, comfort, and other services.
The needs of the women have changed over the years.
Today, the homes primarily serve women with mental illness such as Schizophrenia, Bipolar Disorder and Depression.
Many of the women have also experienced trauma, domestic violence, homelessness, and the loss of their children, which has further complicated their lives.
Referrals tend to come from psychiatric hospitals, crisis homes and social service agencies throughout San Diego County.
The Frances Woods home on Redwood serves women in need of transitional housing for up to 18 months, assisting them in regaining their independence.
They are required to participate in community activities to promote independence and this typically takes the form of volunteer work, adult education courses, or seeking employment.
The Fourth Avenue home provides long-term housing for women who desire permanent housing in a more supervised setting.
Women at this home may have a long-term history of mental illness requiring greater support to reach their goals.
They are also required to participate in community activities to promote independence.
Activities may take the form of day programs, clubhouse participation, and the aforementioned options as well.
Both homes require women to be currently under the care of a psychiatrist including regular visits and therapy to meet additional mental health needs.
---