Monday

9 am - 5 pm

Tuesday

9 am - 5 pm

Wednesday

9 am - 5 pm

Thursday

9 am - 5 pm

Friday

9 am - 5 pm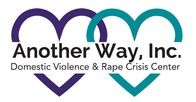 24 HOUR CRISIS LINE:
Another Way shall offer counseling, support, and safe shelter to survivors of domestic and sexual violence; while providing a positive alternative to violence through community education.
Another Way Provides Domestic Violence Services in Columbia, Dixie, Levy, Gilchrist, Hamilton and Layafette Counties.
Sexual Assault Services are provided in these counties and additionally in Suwannee County.
You can contact their office directly at 386-719-2700 or by emailing adm@anotherwayinc.net.
If you or anyone you know is in need of their services, please contact them immediately! They can help! Visit the website provided for more information.
Office Hours:
Monday-Friday 9 am - 5 pm
---