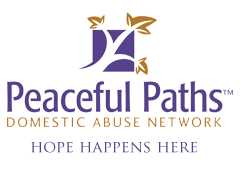 Peaceful Paths provides:
emergency shelter
24-hour crisis hotline
transitional housing
victim advocacy
and restraining order assistance to victims of domestic violence and their children
They serve residents of Alachua, Bradford and Union counties. The hotline number is 1-800-500-1119 or locally 352-377-8255

Toll-Free Crisis Hotline 800-500-1119
Local Hotline Number 352-377-8255
Peaceful Paths realizes that individuals and families are sometimes forced to leave the safety and comfort of their own communities because it is no longer safe.
They provide secure, temporary shelter for displaced victims of Alachua, Bradford and Union counties on a 24-hour basis.
Their shelter is staffed by trained advocates that can provide emotional support through this tough time; crisis counseling, information, referrals and safety support along with functional items needed for daily life are available for all residents throughout the entire shelter stay.
They provide services to all victims of intimate partner violence regardless of race, religion, color, national origin, gender identity, mental or physical ability, sexual orientation, citizenship, immigration status, marital status or language spoken.
While the shelter structure has space limitations, Peaceful Paths will make reasonable accommodations to ensure appropriate services to all eligible individuals and families seeking support.
The shelter is designed to function as a temporary home away from home with a common living room, kitchen/dining room, playroom and several bathrooms.
There are 5 smaller bedrooms for families and one larger shared bedroom for individuals.
The surrounding property is set away from regularly traveled areas and is monitored by staff at all times.
They strive to make the shelter environment comfortable, peaceful and safe.
---