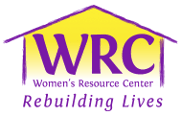 Women's Resource Center services encompass the diverse and comprehensive needs of individual and families impacted by domestic violence and sexual assault.

These services include:
a shelter for battered women and their children;
crisis intervention service.

Full list of services provided:

The Women's Resource Center develops intervention and prevention programs designed to meet the needs of victims of sexual assault or domestic violence.
A program has also been established for perpetrators.

This section contains brief descriptions of each of their areas of service.

Residential Services
Victims who have been terrorized by domestic violence and forced to flee their homes and seek emergency refuge need to feel safe and secure.

Alternatives to Abuse Emergency Shelter:
An essential element of the domestic violence intervention program is the agency's 30 day shelter for battered women and their children.
This treatment-oriented facility is focuses on moving the client into a more permanent, non-violent living situation.

Transitional Housing:
The Transition House offers a twelve to eighteen-month program designed to help victims and their children develop violence-free, self-sufficient futures.
Transition House features 21 apartment which range in size from efficiency to one-bedroom to two-bedroom units.
It currently provides the great majority of all transitional housing for battered women in north coastal San Diego County.

Non-Residential Services

Crisis Intervention:
The approach to crisis intervention is that such services are time-limited and that they respond to a precipitating event which the individual needing service has experienced a crisis.
Crisis intervention involves the exploration of alternatives and resources and focuses on rebuilding the client's problem-solving skills and self-esteem. Crisis intervention services are available 24-hours-a-day either in-person and/or by telephone.

Crisis Telephone Hotline:
A 24-hour crisis hotline to victims of domestic violence has been available since 1974.
Agency statistics consistently show that over 50% of the clients first contact the agency via this lifeline.
Through one central telephone number, rotating telephone lines allow multiple hotline call processing.

Adult Counseling:
Counselors offer many services that respond to the needs of their clients.
The counselors are all have Master's degrees and many are registered State of California Marriage, Family Therapist (MFT) interns.
The counselors have regular on-going clinical supervision from a licensed Marriage, Family Therapist (MFT) in addition to their administrative supervision.

Children's Counseling:
Specialized services are available for the children of battered women.
This program is designed to enhance a child's adjustment to his or her family's own situation and to promote violence-free life styles.

Community and School Prevention Services:
The center has been providing education and outreach services to schools and communities in northern San Diego County since 1978.
To date, the Center has provided over 6,500 community education presentations to more than 150,000 adults and children.
The center provides basic prevention education curricula for both domestic violence and sexual assault.

Publications:
A quarterly newsletter includes information on the agency and the resources available to victims, and feature articles on the topics of domestic violence and sexual assault, safety and domestic violence.
The newsletter is currently mailed to over 1,600 social service providers, members of the faith community, business persons, agency supporters, schools and community members.

Community Involvement:
To raise community awareness as to the issue of domestic violence, Women's Resource Center representatives and Board members are active in local civic groups.
This community involvement helps to keep the Center and its mission and domestic violence and sexual assault concerns ever present in the public eye.

Domestic Violence Perpetrator Program:
Women' Resource Center has been certified by the County of San Diego to provide perpetrator education programs since 1989.
This 52-week Family Violence Intervention Program (FVIP) is designed to address domestic violence through education and therapy and to guide perpetrators toward non-violent, non-abusive methods of thought and action.
Most of the attendees are in the program are there due to a Court Order giving them a choice of either attending the program or going to jail.
Some of the attendees are self-enrolled, recognizing the fact that they have a problem with using violence in relationships.

In-Person Response Services

Sexual Assault Response Team (SART):
As a part of the Center's 24-hour crisis line operation, response personnel are on call at all times of the day and night.
The Sexual Assault Response Team (SART) program is designed to provide emotional support and advocacy to sexual assault victims during the hospital rape exam questioning by law enforcement and beyond.
When contacted by a law enforcement agency, a Women's Resource Center advocate (staff or volunteer) responds immediately to the hospital facility.

Domestic Violence Response Teams (DVRT):
The Domestic Violence Response Teams work in partnership with local law enforcement.
A team will only respond to secure crime scenes where an officer is present on site.
Their primary responsibility is to counsel and assist victims.
After the advocate has completed the initial crisis intervention assessment with the victim, the advocate arranges to provide follow-up referral and resources provided at Women's Resource Center's office.
---