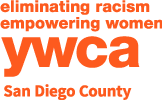 (619) 234-3164 24 hour Domestic Violence Hotline
A 30-day residential program for women and children in need of immediate protection from domestic violence.
Becky's House Emergency Shelter provides a total of 47 beds for 11 families and 3 single women.
The shelter offers a safe, confidential, temporary home for women and children victims of domestic violence.
Participants are provided with:
room and board
case management
information and referral
advocacy
legal assistance
individual and group counseling
housing and employment assistance
and recreational activities
An on-site Shelter School, staffed by the San Diego Unified School District, is available for children 5-17.
The shelter also provides information and referrals for individuals calling into the YWCA hotline.
Eligibility: Emergency shelter accepts women and their children (boys and girls younger than 18 years).
Also accepts female minors experiencing domestic violence.
---