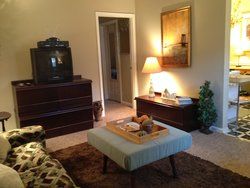 Transitional housing for victims of domestic and sexual violence.
They do not have immediate openings.
Call for details.
They are located in an urban area of Nashville.
The property is comprised of 12 one-story apartments.
Eleven of the apartments have large living room areas, eat-in kitchens, one roomy bedroom and a bathroom.
Each one is beautifully and lovingly furnished because they believe that the healing begins the moment a woman steps into her new home.
There are several security features on property enabling the women and children who live here to feel safe and secure.
There is also a well-equipped playground, on-site laundry facility, and food pantry.
Their main office is located in the twelfth apartment.
---
"OUR MISSION is to provide a therapeutic transitional housing program and a myriad of loving, comprehensive services that enable survivors of domestic and sexual violence to heal from their abuse, reclaim their autonomy, and reawaken their hopes and dreams."