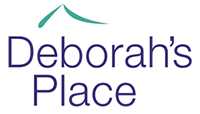 Deborahs Place is a safe haven for women experiencing homelessness.

A Safe Haven program provides semi-private housing for people who have experienced chronic homelessness and have a severe mental illness.

Someone who is chronically homeless has consistently lived without housing for a year or more and/or they have experienced more than four episodes of homelessness within three years.
---
"Deborah's Place opens doors of opportunity for women who are homeless in Chicago. Supportive housing and services offer women their key to healing, achieving their goals and moving on from the experience of homelessness. We seek to fulfill our mission through the expression of our core values: We believe that safe, clean and affordable housing is a right. We believe that every woman has the potential to achieve her goals and determine her future. We believe that women heal from life traumas through healthy relationships and a caring, supportive community. We believe that we are stronger when we welcome and celebrate the diversities of the women we serve, our donors, volunteers and staff. We believe in striving for continual growth, development and excellence in the supportive housing and services we provide. We believe that our impact is greatest when we work in collaboration with individuals, organizations and the community at large."