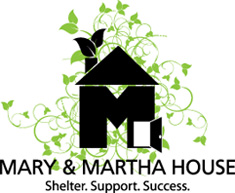 Mary & Martha House Inc is a bridge into Permanent Housing Services

Short Term Emergency Shelter (Phase 1) Housing and support services are provided for up to 90 days, to help the family in crisis, assess their immediate needs and provide access to community resources.

Transitional Housing (Phase 2) Once the family is stabilized and has developed their individual employment and housing stabilization plans, they are eligible to be transferred intoTransitional Housing where they can reside for up to 6 months to address the longer term goals of the family.
Clients are required to seek employment and to utilize all available community resources to achieve self-sufficiency.
---
"Mary & Martha House provides emergency and transitional housing and support services to homeless women, victims of domestic violence and their dependent children so that they will gain employment and successfully secure permanent housing. "