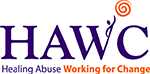 Help for Abused Women and Their Children to Healing Abuse Working for Change

HAWC offers a wide variety of comprehensive services to the community.
Whether a client is interested in leaving an unhealthy relationship, or is simply seeking more information about domestic violence and what it means, their programs are designed to meet the individual needs of each person who is looking for help.
Advocates undergo intensive training to be able to help clients cope with the multitude of issues a person experiencing domestic abuse may need to implement.
Advocates teach tools such as safety planning, financial empowerment, and how to issue a legal protection order.
Clients can feel comfortable that their staff have access to a wealth of resources to best meet their needs.

Services:
24-Hour Hotline
Hospital Advocacy
Individual Advocacy
Legal Advocacy
Parent Child Trauma Recovery
Emergency Family Shelter
Community Outreach
Support Groups

HAWCs shelter program is a short-term supportive environment designed to assist program participants and their children as they heal from the trauma of domestic violence.
The program is for individuals who are in current crisis and are at risk of being homeless due to domestic violence.
Their shelter program serves as a stepping stone in achieving the goals identified at the start.
The shelter is a communal living situation and at any given time they have folks of many nationalities, ethnicities, languages, sexual orientations, gender identities, and religions.
The aim of their shelter program is to aid individuals in constructing real and sustainable options for their future once they have moved on from their shelter.
Individuals staying in the shelter receive the support and advocacy from a Family Advocate who assists in the stabilization process and empowers them to achieve their self-determined goals.
Individuals participate in several weekly support groups that focus on domestic violence awareness, life skills, self-esteem, and parenting.
---
"To create social change by taking action against personal and societal patterns of violence and oppression "