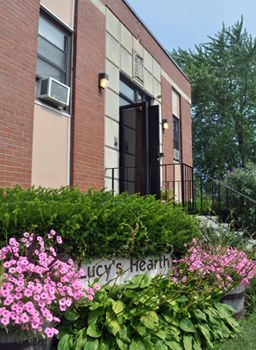 Population Served:
Their Emergency Shelter Program is located at 913 West Main Road, in Middletown, Rhode Island.
Nine mothers and their children may be accommodated at any one time in the nine bedrooms, which include beds, a bureau, a sink and vanity, and a closet.
The families share use of a kitchen, television room, dining room, playground, bathrooms and a learning center.
Eligibility requirements for mothers include:
be at least 18 years old and have a minor child in custody, and be clean and sober for at least six months.
If a mother is a victim of domestic violence within the previous six months she will be referred to a domestic violence shelter.
Before acceptance into the emergency shelter, mothers:
need to complete a telephone screening (if a mother is placed on a waiting list she will be instructed to call the program once per week to check in)
should respond within 24 hours to a call from Lucy's Hearth that there is an opening
must provide various documents, including birth certificates and other identification, health insurance cards if any, and financial and housing history records.
After an opening is identified, the staff gathers general information from each mother, gives a tour of the shelter and answers questions.
---