Monday

9:00 AM - 4:00 PM

Tuesday

9:00 AM - 4:00 PM

Wednesday

9:00 AM - 5:00 PM

Thursday

9:00 AM - 4:00 PM

Friday

9:00 AM - 4:00 PM

Saturday

7:00 AM - 12:00 AM

Sunday

8:00 AM - 12:00 AM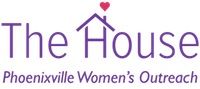 The House - Phoenixville Women's Outreach is a permanent housing program for homeless and low-income single women in the greater Phoenixville area.
In addition to safe housing, they provide their residents with support services and counseling to enhance skills, achieve self-sufficiency and move from crisis to independence and beyond.
The House has five bedrooms, two full baths, two living rooms, a dining room and laundry.
It is centrally located in Phoenixville near public transportation, banks, shopping, the post office, Phoenixville Area Community Service (PACS) and downtown.
While they provide safe housing, food and basic needs of life for their residents, each woman will work with a social worker and their volunteer staff to develop an individual plan, empowering her to learn and develop new skills, such as:
basic life skills
budgeting
job re-training
strengthening self-esteem
strengthening and developing coping skills
developing problem-solving skills. . . all with the objective of achieving successful independence
If you are in need of housing, call Mary Beth Coggins, MSW, Licensed Social Worker at 484-447-9142.
---