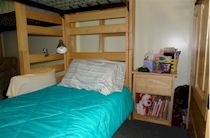 Domestic violence shelter.
Their mission is to provide the support victims of domestic violence and sexual assault need to recover and build a life free of abuse. 
That support comes mostly through supportive services including:
emergency shelteroutreachcounselingtransitional housingaffordable housingadvocacyeducationcase management, and moreShelterFor individuals suffering from domestic violence, calling for help may be one of the most difficult calls they ever make. 
Yet, that phone call is only the beginning of the journey toward a violence free life. 
The Julian Center Shelter can be your bridge between the life you want to leave behind and your hope for a new beginning.
Transitional HousingTheir transitional housing program, called New Life Transitional Housing, is a continuum of services available to survivors of domestic violence and sexual assault who need a bridge to self-sufficiency and permanent housing. 
If you need help making the transition, their transitional housing might be right for you.  
About the programThe New Life Transitional Housing program is based on a holistic, victim-centered model where survivors may participate in their program for up to two years. 
As a participant, you live within The Julian Center complex in a protected environment and are offered a range of supportive services. 
You choose the services you need based on your personal situation that will help you move into permanent housing and succeed in achieving self-sufficiency.
A program director, case manager, and childrens advocate are available to help you reach your goals and gain access to services such as counseling, support groups, legal services, and safety planning as well as practical services such as child care, employment services, housing searches, transportation, and much more.   

---