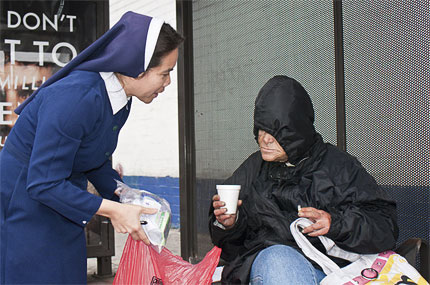 Languille Emergency shelter, located at 267 N. Belmont Ave., Los Angeles, provides a temporary home for 30 women who are taking the first crucial step out of homelessness toward a life of dignity and self-sufficiency.
The women who come through the doors of Languille have lived on the streets or in their cars, fled domestic violence, suffered a job loss, experienced health problems or other life circumstances that led them to homelessness.

This is a 12-week program designed to empower women to obtain the resources needed to become self-sufficient.

Lang room Gwen
Women at Languille Emergency Shelter receive the following services:




Three meals a day


Basic necessities such as clothing and toiletries


Case Management/Resources & Referrals


Job development and employment services


Communal setting


Languille Emergency Shelter is a 12-week program that empowers homeless women to obtain the resources needed to become independent.
The program includes:
Shelter:
Women may stay for up to 12 weeks and are housed in shared rooms in a safe, comfortable setting.
Basic Necessities:
They provide three meals a day, clothing, toiletries and other provisions.
Case Management:
Case managers conduct an initial intake with each woman to assess her immediate needs and determine a plan for longer term housing, employment and health maintenance.
Each resident must develop a personal plan for housing and finance and meets with a case manager at least once a week to discuss her progress.
Job Development and Employment Services:
An on-staff job coach assists the residents with resume writing, interview skills and finding job openings.
Between the hours of 9:00 a.m. and 4:00 p.m., residents are required to seek employment and supportive services outside the residence.
Placement into Transitional or Permanent Housing:
Case managers assist the residents with securing permanent or transitional housing following their 12-week stay.
Aftercare:
After a resident's 12-week stay has concluded, she may take advantage of their aftercare support and continue to use the services of the Drop-In Program.
Throughout this period, case managers maintain contact with the former residents to track their progress.
Drop-In Services:
Women utilizing their drop-in services have the opportunity to go through an intake process and receive referrals for housing, health care and other social services.
Good Shepherd Shelter for Battered Women & Children serves Los Angeles with therapy, education, and on-going support.
They provide a safe environment for women and children and give them a second chance at happiness.
Good Shepherd Center offers the core programs of shelter, food, case management and employment services, all of which are designed to help guide homeless women toward lives of independence.
Their programs provide a continuum of services which help women every step of the way as they move from homelessness to self-sufficiency.
The Mobile Outreach Van provides basic necessities and critical support services to women living on the streets.
Languille Emergency Shelter is the first stop for those taking their first steps out of homelessness.
Their Women's Village, which consists of Angel Guardian Home, Hawkes Transitional Residence, and Farley House, offers women and their children the opportunity to rebuild their lives through affordable transitional and long-term housing, education and training, and employment services.
They serve 700 to 1,000 women and children each year in a spirit of dignity and love through their outreach efforts as well as through their four residences.
All Good Shepherd Center residents must be committed to getting their lives back on track by following their rigorous program guidelines. 
For these women, they provide a safe and supportive environment to begin rebuilding their lives.
Services are provided without regard to race, religion or ethnicity and religious participation is not required.
Their programs empower homeless women to:


Sleep safely and comfortably off of the perilous streets


Eat nutritious meals


Improve their mental health


Increase their earning potential through education and training


Earn a living wage through job placement


Create a foundation for financial stability


Develop and achieve short and long-term goals


Reunite with their children


Rebuild their lives for a better future


Secure permanent housing


---
"The mission of Good Shepherd Center for Homeless Women and Children is to empower women and their children to move from homelessness to self-sufficiency, through housing, employment and support services offered with dignity and love. "