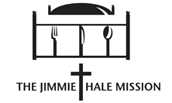 The Jimmie Hale Mission Ministries minster to the spiritual and physical needs of those in their community by sharing the Gospel.
Downtown Jimmie Hale Mission, Inc. is a Christian-based, nonprofit 501(c)(3) organization, which includes a homeless shelter for men, a shelter for women and children, after-school Bible clubs, recovery programs, learning centers, and thrift stores.
This charity is often misspelled Jimmy Hale Mission.
---
""To minister to the spiritual and physical needs of the poor and hurting in Jesus' name." "