Monday

8:30 am - 5:00 pm

Tuesday

8:30 am - 5:00 pm

Wednesday

8:30 am - 5:00 pm

Thursday

8:30 am - 5:00 pm

Friday

8:30 am - 5:00 pm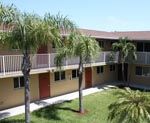 The Salvation Army provides an emergency shelter for men and women at the Red Shield Lodge.
They also provide a family transitional housing location in Hollywood, FL. See the details below.
Transitional housing is not a short term solution to homelessness.
Clients may stay in the program for up to two years, working to make positive, lasting changes in their lives.
The goal for people in transitional housing is to overcome the obstacles that led them to homelessness in the first place and to eventually move to stable, permanent housing.
Poverty and homelessness present obstacles that seem insurmountable to those who are experiencing them.
Even the most determined people have a difficult time negotiating their way out of a situation when they have no resources - no home, no transportation, no appropriate clothing and no way to put together a resume.
More devastating is the loss of confidence and self esteem produced by the loss of a job and home.
The Salvation Army in Broward County provides the specific and on going assistance required to enable their clients to achieve and maintain economic self sufficiency.
The Salvation Army in Broward County has 50 apartments for families in two locations as well as lodging for 80 single men and women.
Residents are helped to identify the underlying issues that brought them into their current situations and to develop practical strategies to return to mainstream society.
Case management, and life skills including budgeting and parenting classes are some of the ways we help their clients make permanent, positive changes in their lives.
For more details call the office at the phone number provided from 8am - 5pm Mondays through Fridays.
Office Hours:
Monday-Friday 8:30 am - 5:00 pm
---