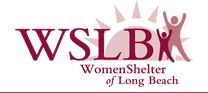 The mission of WSLB is to eliminate domestic violence through compassionate intervention, education and personal empowerment.
WomenShelter is here to help.
If you need emergency shelter, please call the hotline at 562-437-4663 (562-HER-HOME) to speak to an advocate.
Or, if youve already left an abusive relationship or arent able to leave and you are in need of counseling, referrals and help, call the Domestic Violence Resource Center at 562-437-7233.
The following are FREE services offered by WomenShelter to all victims of domestic violence, including women, men, teens, children, and individuals in same-sex relationships.
Services are provided in English and Spanish.
24-Hour Crisis Line (562) HER-HOMEEach year, WSLBs hotline receives more than 1,500 domestic violence crisis calls.
Trained advocates are available to respond to crisis calls from women or men.
Advocates provide support, assistance and emergency referral services.
Emergency ShelterThe eight-bedroom, 29-bed facility provides 30-45 days of safe, emergency shelter for domestic violence victims and their children.
During your stay, you will receive supportive services to assist you in beginning a life free from violence and abuse.
Services included:
legal advocacy
individual counseling
group peer support
and social service advocacy to prepare you for transitioning back into the community
Child Development Center (for Emergency Shelter residents)WomenShelter recognizes that children are often the silent victims in cases of domestic violence.
To ensure that all children at the emergency shelter have a voice, WomenShelter operates an outstanding Childrens Development Center.
Young children attend pre-school on site.
Older children receive home schooling until records can be obtained and the children can be registered at a local school.
All children receive age-appropriate paraprofessional counseling, assessment by a clinician and most important, caring attention from the centers dedicated staff.
Domestic Violence Resource CenterThe Resource Center offers all domestic violence victims a variety of services, including individual and group counseling (licensed and paraprofessional), legal advocacy, case management, social services and emergency food and clothing.
The center is located at 930 Pacific Avenue in Long Beach.
You can also call 562-437-7233.
Support Group for Male VictimsWSLB recognizes that men can be victims of domestic violence.
All agency services are also available to eligible male victims.
Contact the Domestic Violence Resource Center at 562-437-7233 for more information.
Teen OutreachWomenShelter is actively involved in the community with its teen outreach efforts.
The program educates young people about domestic violence and its precursor, teen dating violence, and healthy relationships.
WSLB reaches more than 3,000 high school students each year at Greater Long Beach area schools.
D.a.r.t. (Domestic Abuse Response Team)In cooperation with the Long Beach Police Department, WomenShelter of Long Beach operates the D.A.R.T. program, which provides crisis intervention and counseling to domestic violence victims who have called for 911 assistance or who visit the emergency room due to their injuries.
The specially-trained advocates offer victims shelter and other assistance including help with filing a Restraining Order, legal and medical advocacy, and referrals. Community education
---